It's about 20 years since I was last in Llangrannog. In some ways it's changed….but in many others thankfully it's just the same. This is West Wales pure, and I was so happy to be here again and to share some special places with my Wife.
What's changed? Well it feels like many more of the houses and cottages are now holiday lets – no doubt a result to some extent of rural depopulation. But all in all this still feels like a thriving community and that's great to see.
The Village
Llangrannog is situated right on the coast, at the mouth of two small streams which in times gone by created the narrow valley which it now inhabits. There are really two "centres" to the village which straggles alongside the stream up the valley: upstream is where the church, school and post office were once found, at the T junction of the road leading down from Brynhofnant. Only the church is left now – the Post Office and School being sadly long gone, but this still feels to a certain extent like the landward heart of the village.
Right on the beach is where you find the (now) main centre of the village, with parking, shops, pubs, cafe's – basically everything you need. What's great is that despite the length of time since I last visited, all the businesses seem to be in rude health and have modernised to meet the needs of families and tourists today.
The Beach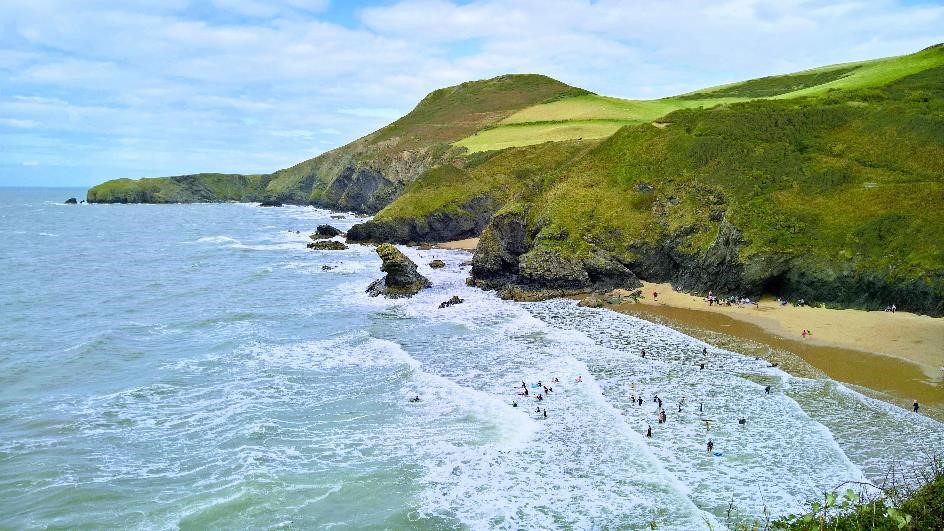 Let's face it – this is why most people are here isn't it – a fabulous playground of sand, stones, caves, cliffs, surf and streams. As a child I can remember battling the waves with little regard to safety – now there are full time lifeguards, and most people seem to venture in wearing wetsuits……some things have definitely changed! But the wetsuits signify that one of the main attractions to Llangranog is now its reputation as a surfing location. That's definitely helped keep it on the map and a favourite of younger people.
But you don't have to venture into the water – and on a blowy August day when we visited there was little chance of me taking a dip…! Scramble up the headlands either side of the beach, or if the tide is good walk round to Cilborth beach (also known as "second bay" via Carreg Bica, the prominnent rock that features on many a pic including mine. If you miss the tide  and get cut off on the wrong beach don't worry, there's a vertigo enducing set of steps that'll bring you back home.
Where to Park
If it's out of season or in the evening, you should have no problems driving all the way down to the seafront, where you'll find a small carpark in front of the Ship Inn (costs a couple of pounds). If it's a warm summer day, I thoroughly recommend using the free carpark located about half a mile (1km) up the valley on the B4334, This is well signposted from the main coast road, and in the summer there's even a small bus which does a circuit for one pound per person. Walking takes only about 10-15 minutes, and is predominantly on safe side roads
Where to Eat
One good thing about Llangranog is that you're not short of places to eat – to summarise:
The Beach Hut (seaside styled cafe with attached fish & chip takeaway)
I ate something from three of these places, and can only report good things! We had a light lunch in the beach hut with a great local ale from the Mantle Brewery, alongside which I ate Tempura Halloumi and chilli Hummus, whilst my Wife had whitebait. All excellent, and several knotches up the food scale from 1980's Llangrannog!
I had a superb (albeit somewhat pricey) ice-cream from Caffi Patio, and I've learned subsequently they're getting quite some recognititon for their ice-cream and cakes. It was very tasty and made right there on the premises
In the evening we returned from our B&B to have dinner at the Pentre. Although it was packed out (a celtic band was playing), the food was quickly served by friendly staff. The food was tasty and clearly home-cooked, and we enjoyed our drinks while listening to the band.
Where to Stay
Where you choose to stay is of course a personal decision, and having only stayed in one place I can't claim to be an expert. There's a raft of options from B&B's to farm-stays, to cottages or flats. We stayed a little out of town at Ffynnon Fendigaid, a gorgeous B&B a few miles inland run by two very friendly owners. It's a 5* B&B, and this showed throughout with the little touches (a guest sitting room, huge selection of teas), and with an excellent breakfast. It's well off the beaten track and fabulously peaceful
In Summary
Although we only had 24 hours there it was a wonderful day, and great to reacquaint myself with places that I hold dearly in my memories. Some places you regret going back to as they taint your memories. Llangrannog is not the same as I remember, but it's moved with the times and done so in a good way. The local businesses deserve all the success they have, and I for one will do my best not to leave it 20 years before visiting again!