Germany used to be known as an expensive country. That's no longer the case – or at least it doesn't have to be the case. In the last twenty years or so things have changed and budget travel in Germany is possible.  I'll introduce you to some places that are off the beaten-path of most tourist itineraries, but which will let you see a different side of Germany, and save you money too. If you're a student, independent traveller or simply someone looking to get as much value for your money in Germany as possible, read on!
Where to Visit to get the best value-for-money in Germany?
My experience and and tips on where to go!
I've visited many cities and regions in Germany, and have and done the things a traveller would.  I've bought a beer, eaten a meal, stayed overnight, taken a tram or taxi, visited a museum. With this knowledge, I've put together a list of places you should visit in Germany if you're looking at budget travel in Germany.
Some may be off the beaten-track, but by avoiding the well-trodden tourist trail you'll save yourself money. You'll also see a Germany most international tourists miss out on. Even better, the main centres of Berlin, Munich or Cologne are easily reached by public transport so you won't miss out.
Known in Germany as "Sächsische Schweiz" this is a stunning region of valleys, sleepy villages and massive rock outcrops. It's tucked away next to the Czech border and is often overlooked in favour of the Bavarian Alpine regions. The big difference is that here you'll find great value accomodation, food and drink far more easily. And a big bonus – no major traffic jams or hordes of tourists!
A Top Tip for great value food is to try the local classic "Würzfleisch". This is a kind of mixture between a casserole and ragout!

Potsdam is a stones throw from Berlin, but a different world. Potsdam is quieter, and a small city of lakes, parks and historic palaces that can be explored on foot. But you're less than 30 minutes away from central Berlin on the train so can get the best of both worlds.
A Top Tip – buy the Visitor Welcome Card which offers free use of transport in the region and discounted museums, shops and restaurants.

Aside from Hamburg, many overseas visitors don't give much thought to Northern Germany This means they're ignoring the huge North Sea and Baltic coasts, and the historic port cities that line them. There are many cities worth visiting on the coast, but Lübeck is possibly the best option. Lübeck is only around an hour by train or bus from Hamburg so is easy to reach. It's also only another 10km further to the white sand beaches and big skies of Travemünde and Scharbeutz.
In July and August this coastal region will be busy with holidaymakers, but outside of high-season it'll be much quieter and accomodation will be easy to come by. Lübeck itself has a UNESCO listed historic centre located on an island to explore, and row after row of historic merchant storehouses. You can easily base yourself in Lübeck enjoying the city atmosphere, and then travel quickly to the coast for some sea air!
A Top Tip – try the local delicacy of "Bratheringe" – fried herrings!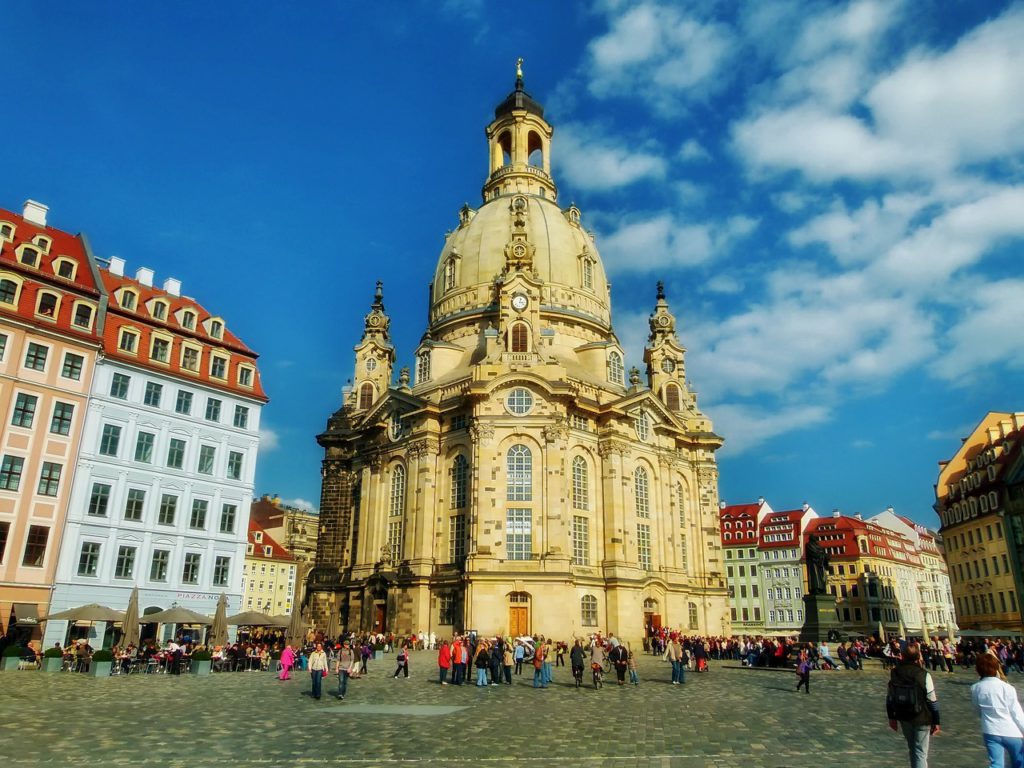 OK, Dresden is not exactly a "hidden secret". It's known around the world for stunning Baroque Architecture and the Frauenkirche in particular. The city has also become famous for the rebuilding of these monuments following the destruction of WWII. Whilst it's true that Dresden suffered greatly during the war and during the subsequent partition of Germany, it's now a vibrant city. Along with Berlin the rebuilding seems to have brought a new vitality to the city with young start-ups and a great bar and music scene in the Neustadt.
The real draw here is the Altstadt, where you'll find most of the major sights in an easily-walkable district. Hop across the river to the Neustadt and you'll find the contrast – the bars and multicultural restaurant scene.
A Top Tip: If you have a sweet-tooth, be sure to try some Eierschecke – a traditional cake that's great for an afternoon treat!
Koblenz is located almost equidistant from Frankfurt and Cologne in the west of Germany. It's often therefore overlooked as a destination in comparison to the better known neighbours. It's known to river cruisers since it sits at "Deutsches Eck" (German Corner) – the point at which the mighty Rhine and Mosel rivers meet. The city has a compact old-town, the mighty Ehrenbreitstein fortress high on a cliff across the river, and the new Koblenz cable car that links the two.
Koblenz lends itself to being a good-value base for further travel. Cologne is 1hr to the north by train and Frankfurt the same distance east. For active travellers it's a great base for the Rhine hiking or cycle routes. The stretches of the Rhine either side of Koblenz are well known for the proliferation of castles high above the middle Rhine.
A Top Tip: Take a day trip from Koblenz to the staggering Burg Eltz
Regensburg sits on the Donau River around an hour south-west of better-known Nuremberg. Unlike Nuremberg however, Regensburg centre was little damaged in WWII and the medieval centre remains intact. In addition, Regensburg took time to recover economically which meant there was little insensitive development. Today the visitor will find a huge medieval city centre with winding narrow streets and wide pedestrianised squares. The large university (20,000 students out of a total 150,000 population) ensures a young, vibrant (and good-value) feel to the city. For active travellers, Regensburg makes a great starting point for tours to the Bavarian Forest
A Top Tip: Grab a beer, and go watch the sunset by the 900 year old Stone Bridge. If you're lucky someone will be strumming a guitar nearby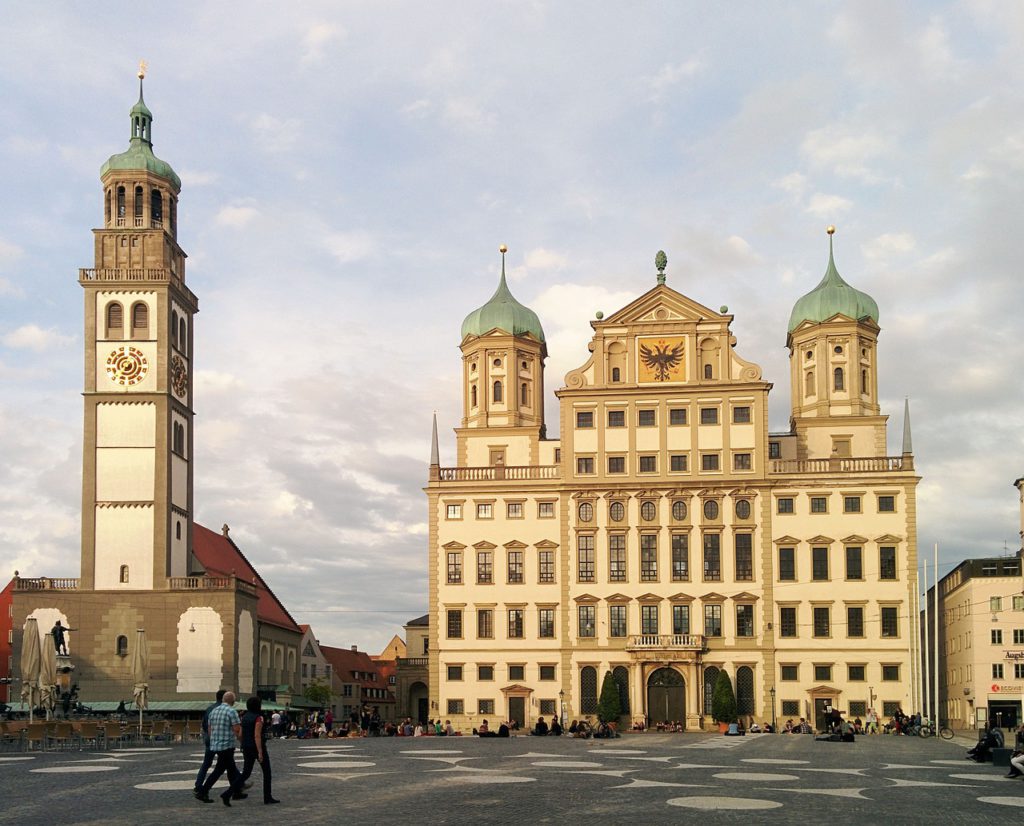 Augsburg is the third largest city in Bavaria behind Munich and Nuremberg. Like Regensburg it's also a University town, and so as a result the nightlife is reliable and lively. In the city itself the historic central square, city hall and Perlach Tower make for interesting visits. In addition, Augsburg has a famous puppet theatre and museum.
The city lies on the Romantic Road (you can also read about my cycling tour) which makes it a great stopping off point or base for a tour. Munich is only around 30-40 minutes distant by train, and Füssen (with Schloss Neuschwanstein) can also be reached directly.
A Top Tip: You can get to Munich in only 40 minutes on the train. This means it's better to stay in this lovely city and travel in than stay in a cheapo hotel on the outskirts of Munich!
How to do Budget Travel in Germany?
How to Get Around
There's a few options here for budget travel in Germany. Rail travel on ICE Express trains is VERY expensive so should be avoided, but there are many other options:
Using Regional Trains: Regional Trains (known as RE/RB) are cheaper, and often qualify for special day tickets that cover a number of people for a set-price. Check the options where you are
Using Coaches: The bus services from Flixbus are good value when booked in advance
Ride-Sharing: The modern day version of Hitchhiking. Between the major cities there's always options, and frequently it'll be good value for last minute journeys. Use Blablacar
Where to Stay for budget travel in Germany
I'm not going to list out hostels or hotels – there's dozens of sites that do that perfectly well and with plenty of reviews! Needless to say, every town of reasonable size in Germany has plenty of budget hotels or hostels.
A Top Tip: The "Jugendherberge" (youth hostel) network in Germany is of high quality, and located often in historic buildings. All the places listed above have at least one, so for budget travel in Germany they're a great choice!
In Conclusion – Budget Travel in Germany!
These towns and regions all offer great value for money in comparison to major cities. They all offer easy access to the major cities should you wish however – you get the best of both worlds!
If you have ideas of your own you think I should add regarding budget travel in Germany, just let me know!